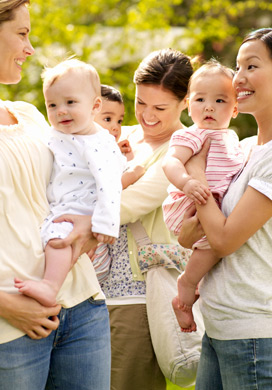 Q. What is Gymboree?
A. Gymboree is the global leader in early childhood development for children aged 0 to 5 years and is the pioneer of parent-and-child programs. Gymboree's core (Play & Learn) program arms parents with the tools necessary to make them active participants in their children's learning and development.

Gymboree provides parents and children with a one-of-a-kind environment and unparalleled play experiences to help stretch the mind, body and imagination and support every facet of a child's development. Gymboree classes are great for both parents and kids to make lifelong friends and learn in a fun environment. We like to say, Gymboree Creates Confident Learners.

Gymboree's programs include Gymboree Play & Learn (the core program), Art, Music, Family, School Skills and Sports. Each program is divided into different age levels.

Gymboree an international organisation based in San Francisco, California, with over 550 centers in 46 countries around the world.


Q. Why should I bring my child to Gymboree?
A. Few parents realise that 80% of the human brain develops between the ages of 0-3 years. The relationships and experiences children build and undergo in the first three years of their lives have a profound impact on their future development and approach to learning. It is therefore essential that parents and caregivers nurture a child's development during these pivotal years. As mentioned earlier, Gymboree's unique approach to learning arms parents with the tools and skills they need to become active participants in their children's development and learning.


Q. Why can't I do all of this at home?
A. Gymboree Centers offer a safe and stimulating environment that is conducive to learning. All our teachers are properly trained. All the Gymboree programs and equipment have been designed for age-appropriate learning, and have been developed by leading early year's specialists, language acquisition experts, and child psychologists. As such, it would be difficult for parents to exactly replicate the Gymboree experience at home.

However, parents can follow the same ideas and principles used within the Gymboree programs to enhance the creativity and confidence of their children and continue the learning process at home or anywhere else. This is a key reason why parental participation is a pre-requisite of many of our programs and we encourage parents to participate even when not required.


Q. Why must I come with my child?
A. Gymboree believes that parents are the first teachers of their children. Children initially learn about the world through their parents. It is important to make this time special. At Gymboree, we provide an experience that creates a lifetime bond between the parent/caregiver and the child.


Q. How will I participate in the activities?
A. We believe that children develop at their own pace, through physical, mental and creative activities, with the involvement and support of parents and caregivers. Parents therefore need to stay within arms reach of their child at all times.

Our teachers work closely with parents during the class, facilitating the learning process of the child. In fact, in most Gymboree programs, it is the parents who handle the child, while the teacher's role is that of a facilitator. Gymboree is committed to helping parents become the best caregivers they can be.


Q. Is Gymboree just for mothers or can fathers also attend classes? What about grandparents, older siblings, aunts, uncles etc.? How many caretakers can accompany one child at a time?
A. Fathers are not only welcomed, but are encouraged to actively participate in Gymboree classes so that they may become equal stakeholders in their children's development. Grandparents, older siblings, and other close relatives may also attend.

Although more than two adults may accompany the child, we ask that this does not affect the experience of other participants.


Q. Can we send the child with a nanny/caregiver?
A. Gymboree believes that it is in the best interest of your child if he/she is accompanied by a parent, as the entire point is for parents to form a stronger bond with his/her child. Even if you have a nanny/caregiver, as many families do in Pakistan, this is your special time with your child!

Moreover, the time you spend with your child in the Gymboree environment will arm you with the tools and skills you need to become a more confident and creative adult, as well as help develop your understanding of your child and his/her needs.


Q. What kind of activities will we be doing at Gymboree?
A. The various Gymboree programs encompass a range of activities – depending on which specific program is being attended, as well as the age of the child. The main programs we offer include Play & Learn, Art, Music, Family, School Skills and Sports.

As mentioned, the specific activities for each program differ somewhat depending on the relevant age group. However, in a broad sense, if your child is attending the Play & Learn program you can expect activities that are designed to help develop your child's cognitive and motor skills through fun, yet informative, game play. Similarly, the Art program may utilize free drawing/paining and the Music program may use singing. Within each program, developmentally appropriate activities, songs and games are designed to give freedom for individual growth in all levels.

The main thing to remember is that children learn best when they are having fun; so we strive to create an environment that facilitates playful learning. Each of our programs is designed to encourage children to learn how to learn within a fun and interactive environment.


Q: What are the different age groups that Gymboree caters to?
A. For a child to have fun and learn at the same time, Gymboree has designed 7 age-appropriate levels to enhance your child's physical, social and cognitive understanding.
These are:
Level 1: 0 to 6 months
Level 2: 7 to 12 months
Level 3: 13 to 18 months
Level 4: 19 to 24 months
Level 5: 25 to 30 months
Level 6: 31 to 36 months
Level 7: 37 to 42 months


Q. Can I bring all my children at the same time?
A. Given that most Gymboree programs are age-based (as aforementioned), it is unlikely your children are exactly the same age (unless you have twins) – and therefore, the odds of two of your children attending the same program are slim. It is also important to bear in mind that Gymboree requires that at least one adult per child be present in the environment during the class. However, the Family Gymboree program is designed for parents/guardians to bring all their children.


Q. Are there any Gymboree programs in which I can just drop off my child?
A. Yes. The drop-off programs start at age 3. Please refer to the program guide for more detail.


Q. Does Gymboree offer day care/crèche facilities?
A. No.


Q. Is Gymboree a 'school'?
A. No, Gymboree is not a 'school'. However, it is pertinent to emphasize that the learning, confidence, and social skills that Gymboree develops play a key role in enhancing a child's success at school.


Q. How long are the classes?
A. Classes with accompanying adults are 45 minutes and drop-off classes are 60 minutes.


Q. What are the class times? Can I bring my child after work?
A. Please refer to the class schedule handout for days and class times.


Q. How frequently should I come?
A. You may come as often as you and your child would like for the age-appropriate level; however, we recommend a minimum of 1-2 classes per week.


Q. How soon will I start to see the benefits?
A. At Gymboree we recommend that you attend at least 12 weeks of consecutive classes in order to start seeing a change in your child. However, it is important to remember that every child learns at his/her own pace; with some children you may see visible changes sooner, and with others later.


Q. Do we need to bring something to class?
A. You may bring whatever you feel your child will need for the duration of the class. For Level 1 we recommend a blanket, which you will use for your child on the play floor.


Q. How trained are your teachers? Where are they trained?
A. Our Gymboree teachers are trained by certified teacher trainers from the Gymboree corporate head office in San Francisco.


Q. What is the medium (language) of teaching?
A. Our primary language is English, but please feel free to talk to your child in whatever language he/she is comfortable with.


Q. How safe is the environment?
A. The equipment is designed keeping the safety of your child in mind. We do however recommend the parent/caregiver to stay within an arm's reach of the child.


Q. Can we buy your products?
A. Yes, many of our products are available for re-sale on our product wall.


Q. What is the link with Beaconhouse?
A. Beaconhouse is the 'master franchisee' for Gymboree in Pakistan.


Q. Will you be opening Gymboree centers at Beaconhouse schools or will they all be stand-alone locations?
A. At the moment, Gymboree centers are stand-alone locations, but in the future we may build facilities at some Beaconhouse schools.


Q. Will Gymboree only have a presence in Lahore?
A. No, we expect to establish Gymboree centers in all the major cities of Pakistan in the future.


Q. Is this an American Brand?
A. While Gymboree has a strong presence in the United States, it is an international brand operated by local business owners. It is currently operating in 46 different countries and is growing fast.


Q. When will the first Gymboree center launch, and where?
A. The first Gymboree center has launch as of January 2011 in Gulberg, Lahore. Please refer to our Contact Us page for directions.


Q. What about other parts of Lahore, like DHA?
A. Subsequent Gymboree centers will be opened in other parts of Lahore, including DHA.


Q. How much will I have to pay?
A. Please refer to the fee structure handout.